---
---
The highest standards - the happiest customers
---
POEMS by Allen Harris November 2017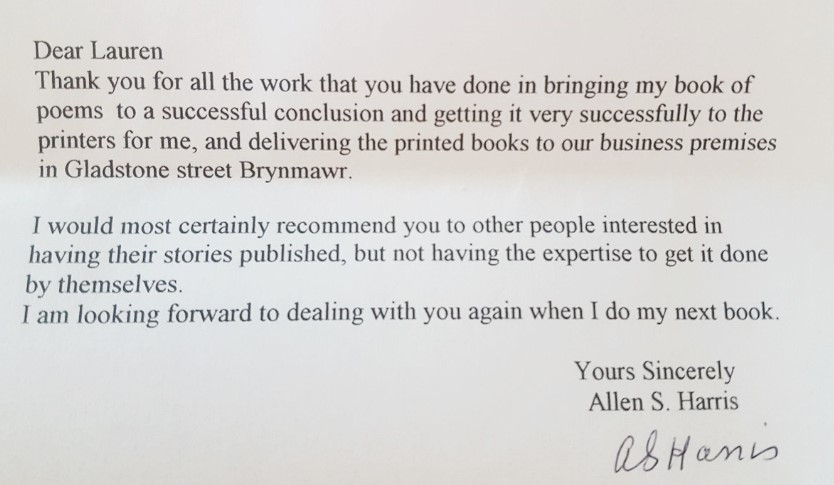 ---
Lauren has been writing up my mam's memories and has produced a manuscript that truly relates to the information that mam gave to her over the period of a few months. The draft was produced and read by mam and her friend, and it brought smiles to mam's face. Unfortunately mam died before the book was complete. Lauren was very sympathetic and kind to mam during her visits, and to me since - thank you Lauren.
In memory of my mother I have completed the book with the help of my family and Lauren. Lauren is a very considerate, sympathetic and loving person. Thank you.
Book: Mary's Memories Roger Daniels, May 2017
---
If anyone wants to preserve a special story, memoir or family history to pass down to future generations I can highly recommend Lauren. I wanted to make sure that my grandad's legacy was not forgotten, especially as the older members of the family get less and less, the stories are gone and there is no-one to answer the questions. Having the memories printed makes a wonderful gift too. She has done a fantastic job for me and now my heroic grandad is remembered forever. Lauren is a lovely person to work with too - thank you, Lauren.
Book: Grandad's War Lynda P, Jan 2017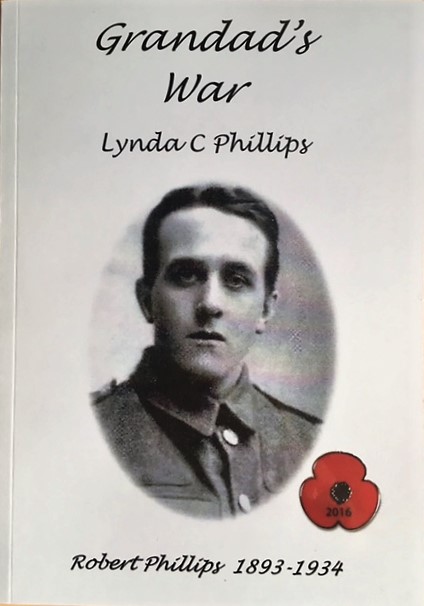 ---
Thank you so much for all your hard work putting my travel journal, Adventures in Central Asia, together for me. I could never have done it without your help and your expert treatment of my photos has produced some stunning results.
Book: Adventures in Central Asia Priscilla L, Dec 2016
---
Thank you for producing a book of memories for my mother which has proved invaluable. Not only is it a treasured keepsake for all the family to enjoy but it has given her endless hours of pleasure. The large print text has helped her to read with failing eyesight and her precious memories have been documented in a way which aids her increasing memory loss. It has been money well spent.
Book: Memories of Merthyr, A Childhood Memory Book Sian Dawson, July 2016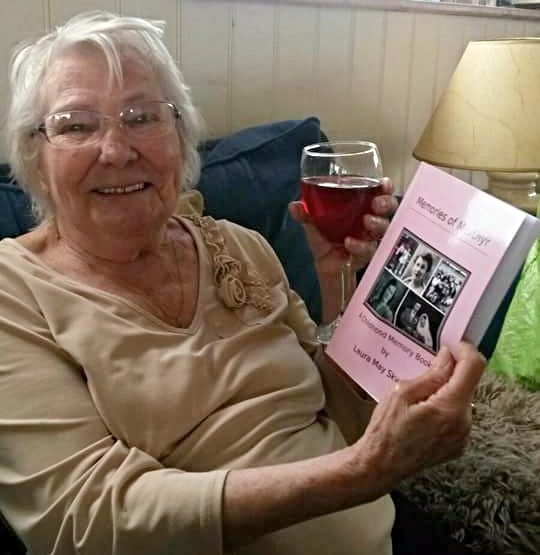 ---
"Lauren spent a lot of time with me to make sure I was happy and everything was perfect. I am really pleased with my book - she did a wonderful job."
Book: Val's Stories Valerie H, May 2016
---
"I couldn't be more pleased with the quality of my finished book. Lauren captured the very essence of my story - beautifully and sensitively written. I am now inspired to write the next part! Such a pleasure to be able to give copies to my children and grandchildren."
Book: Growing up in Brynmawr - Memories of a Baby Boomer John S, February 2016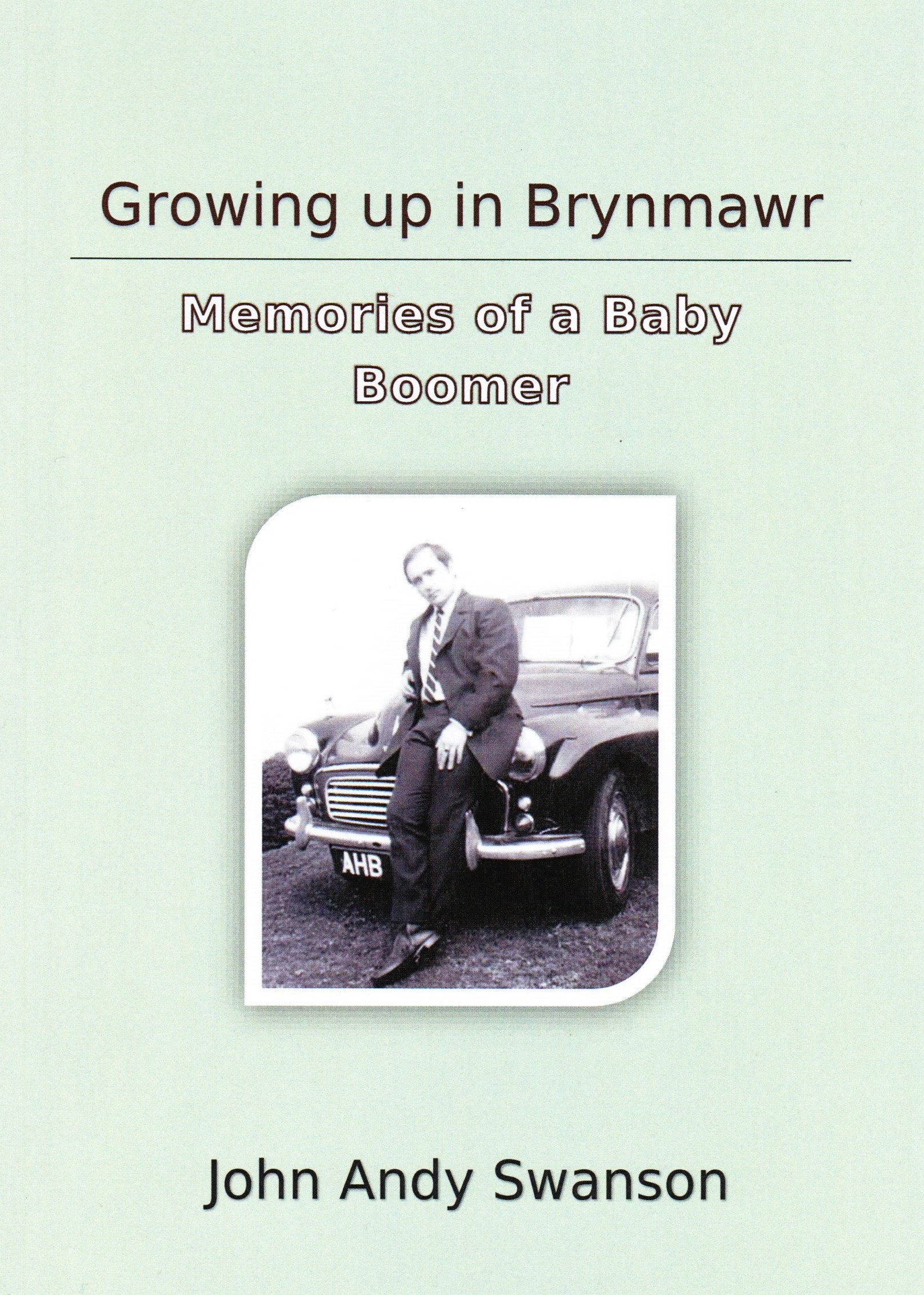 ---
"The book written by Leaving your Legacy about my grandfather Walter Reynolds was a fantastic reflection of his life and his memories. We have discovered a lot of unknown stories and facts from his life that we would not have otherwise or that would have been lost when he passed away. The book was well written and is a lovely keepsake to treasure and remember my great grandfather by."
Book: Walter Reynolds - A Personal Tribute to my Grandfather" Iain S, January 2016
"I have just read the book - absolutely fantastic to learn more about our family. I didn't want to finish it. Brought a tear to my eye, also to see the lovely pictures of nanny again. Thank you very much. I know Joseph will love to read this when he is older."
Book: Walter Reynolds - A Personal Tribute to my Grandfather" Gemma K, December 2015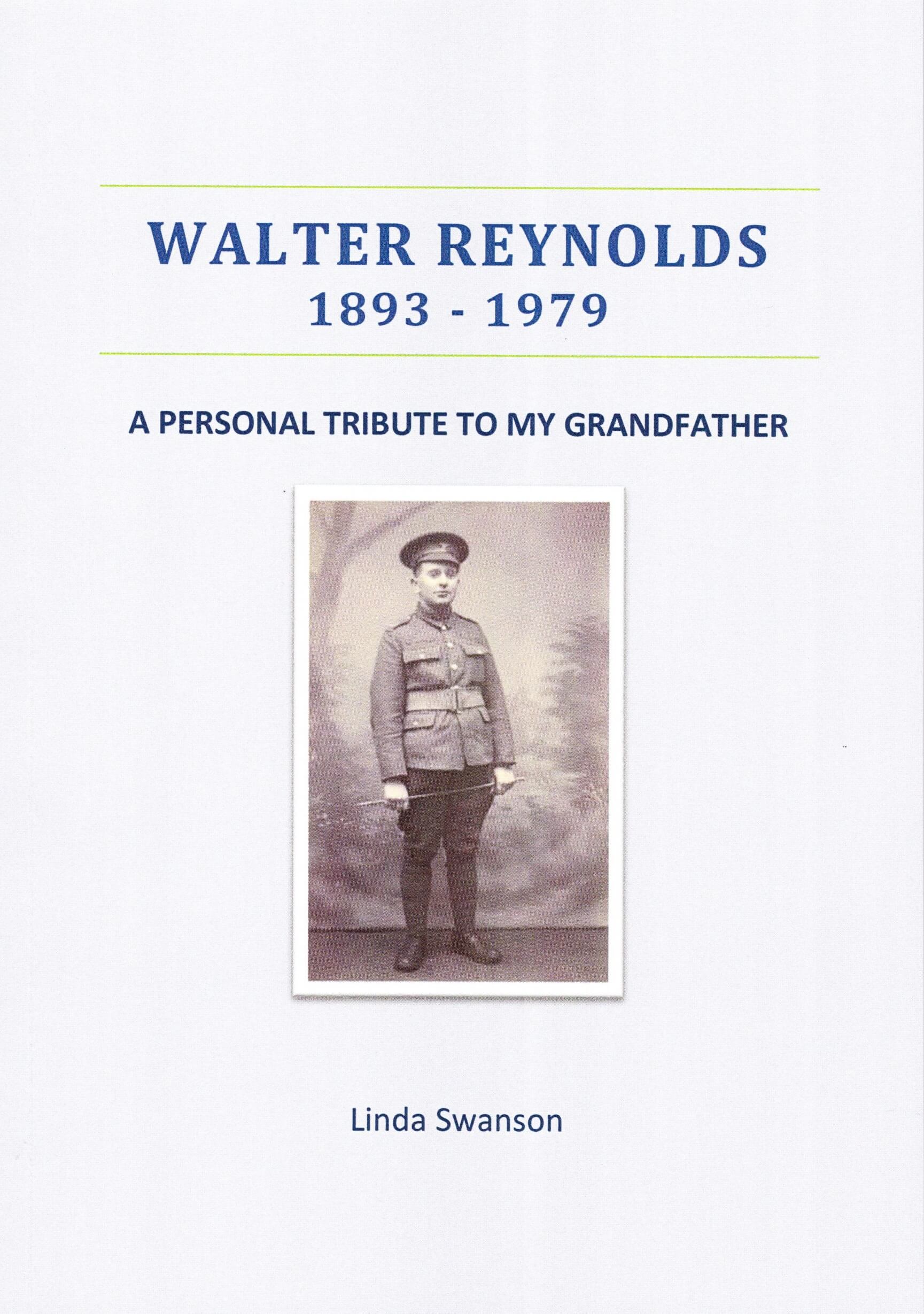 ---
"These books are excellent, it is so interesting to read about my Dad and my Grandad's memories. What a lovely present and keepsake to receive. I would highly recommend Leaving your Legacy. Brilliant."
Book: Emrys Westacott - A Personal Memoir Julie W, December 2015
"My dad was in his mid-eighties when he hand wrote the start of his Memoirs telling of his childhood in Tredegar, his apprenticeship as a bricklayer, his time in the RAF during WW2 and then eventually meeting his wife Ruth, my mum. His handwritten notes will always be a treasured possession of mine but it was wonderful to have them typed up by Lauren, photographs added, and then professionally printed as a paperback book. I have now been able to give copies to other members of the family including his grandchildren and great-grandchildren who were all delighted and treasure them. Thank you Lauren."
Book: Emrys Westacott - A Personal Memoir Linda S, November 2015